Post by Lee Martin on Sept 26, 2013 12:50:42 GMT -5
Step 1 – Cartridge Selection
The starting point for any good benchrest rig is the cartridge. Whether it's 222, BR, or PPC headed chamber specs are a major consideration. When we were building this style of rifle 20 years ago PPC brass was high. Supply was quite limited and when you found it the going rate was $3 per. That led us to the 6 BR and even wildcats like Culver's 25 Dart and the 6mm Wasp. Those performed beautifully but for competition you'll want a PPC.
Most agree the 6 PPC holds an edge over the BR out to 200 yards. Beyond 300 and folks jump to 6 Norma for the uptick in case capacity (that is if you're set on 243's; the 6.5's and 30 BR have made huge inroads at those distances, especially 600 yards). Since I plan to shoot heavy varmint in 100 & 200 group aggregates I've decided to build a PPC (Pindell-Palmisano Cartridge).
Brass selection, chamber dimensions, and overall prep take on a life of their own with the PPC. Very few buy out-of-the-box shells and start reloading. Sako and Norma do make pre-formed but it is rarely used in competition. The round works at high pressure and the Norma stock was soft. It wore out faster and tended to lack match-grade uniformity (note my use of the word "was". The new Norma is supposedly better but I've yet to handle any. Lou Murdica reports it'll run alongside Lapua all day so we'll see). Sako standardized the 6 PPC USA in 1985 but their version differs ever so slightly from match tolerances. For one the shoulder is five minutes sharper and it headspaces off the outer edge (yes, that's minutes not degrees). The base is also one to two thousandths bigger so they won't fit match chambers. Because of these small but significant differences Lou Palmisano asked Sako to add "USA". In doing so they demarcated the round from comp-grade PPC.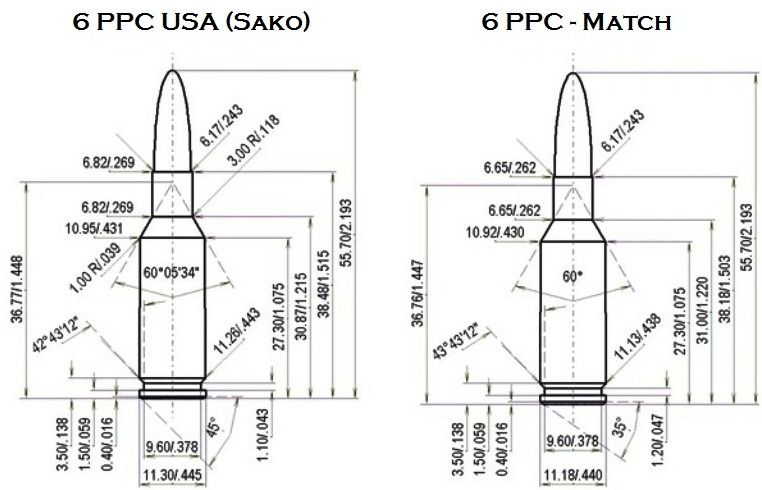 Nearly all match PPC is formed from Lapua 220 Russian. The quality is outstanding and the price is in-line with the Norma and Sako counterparts (I'll cover the three fire-forming techniques later on). Starting with 220 Lapua the first major decision point is neck thickness. Bullet tension and neck regularity are a must for precision shooting so many 6 PPC chambers are cut 0.262". But 262 isn't merely tied to performance, it stems from the old parent brass. Back in the 70's and 80's Sako 220 shipped with necks on the order of 0.265" – 0.268". To clean-up the 0.002" – 0.004" run-out common to those batches the wall thickness was thinned to 0.008" – 0.009". Now let's do some reverse math. Say your FB bullet measures 0.2434" at the pressure ring and your trued neck thickness is 0.0088". 0.2434" + 0.0088" + 0.0088" = 0.2610". Cut your chamber to 0.262" and the loaded cartridge will be 0.001" under or 0.0005" per side. That's tight but very desirable for benchrest work. I'll delve into neck tension and sizing strategies once the rifle is done. For now just note that most competitors shoot 0.262" but there's a growing trend towards thicker and even no-turn. In fact the winningest benchrester of all time Tony Boyer has competed with 0.265"s and 0.268"s.
Lapua 220 uniformity is stellar and can be trued with one pass; assuming it needs to be trued at all. Their earlier production 220 mic'd just under 0.271" with a flat base 6mm. Recently wall thickness increased ~0.0008" so unturned they now measure 0.272". That yields 0.015" per side so a 0.268" – 0.269" chamber gives ample room for clean-up. Even so most stick with the tried-and-true 0.262". There're three reasons why they do: 1) tradition, 2) benchrest smiths usually have a 0.262 PPC reamer, and 3) there's greater knowledge share on load tuning as conditions change.
We'll be grinding our reamer soon and decided on the following: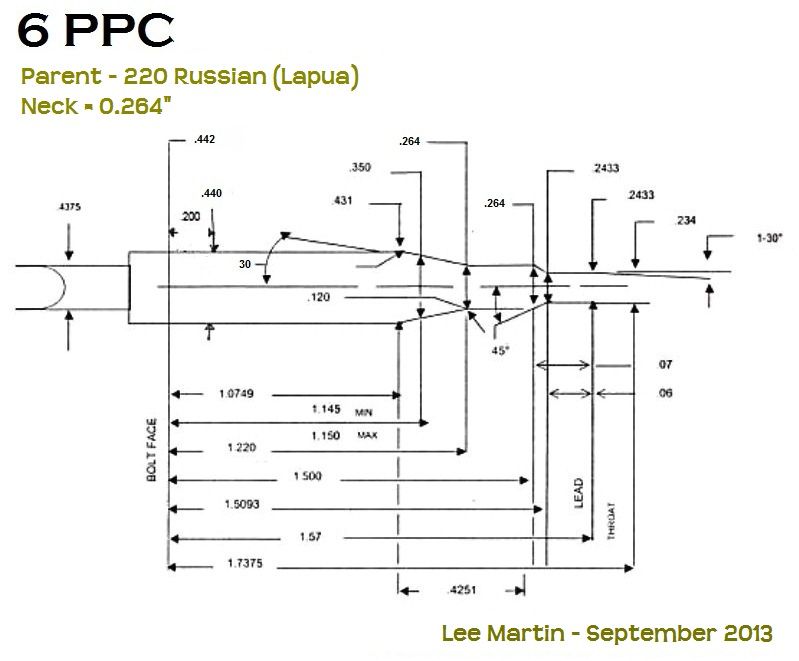 264 isn't seen much anymore in PPC. Hall of Famer Speedy Gonzales uses 263 and Mike Bryant has been successful with 265. So why will I cut 264?
1) I like one-offs and split the difference between Speedy's and Mike's
2) I already have 259 through 263 buttons
3) High neck tension is easier to obtain with the added thickness (some benchrest powders like squeeze)
4) The Lapua will true well before we remove 0.005" per side. There's no need to take more
5) I won't go thicker than 264 in case Lapua brass dries up (not likely). If I had to form from another make I want buffer if the run-out exceeds Lapua.
These specs play out like this:
Brass - 220 Lapua
Chamber - 0.264" (+/- 0.0005")
Neck thickness - 0.0095"
Bullet - 0.2435"
Loaded neck - 0.2625"
Total clearance - 0.0015"
A 0.260" ring will give ~0.0025" in neck tension. A tad above average and it should work fine with the powders I intend to shoot (LT-32 & 8208). If I test the VV brands like N133 I may bump it closer to 0.004".
More to come…..
-Lee
www.singleactions.com
"Building carpal tunnel one round at a time"