Post by Lee Martin on Jan 4, 2015 20:19:20 GMT -5
More shooting from David. As he reported last time, our "volcano'd" nose was an attempt to correct the painfully inaccurate LBT 300 WFN:
____________________________________________________
Continuing from Vol. XLVII----hollow-pointing the pitifully inaccurate cast .452" 300 grain Wide Flat Nose Gas Check in desperate attempt to make it shoot straight...
Sent cast 300 WFN GC to Lee Martin with instruction to cut volcano hollow point, throw longitudinal Center of Gravity rearward. Lee performed HP in lathe with a ball cutter. As seen, initial result with the new 276 grain Volcano, deep seated over 13.5/HS-6 in Starline .45 Colt brass with WLP primer, produced this three shot group at 100 yards.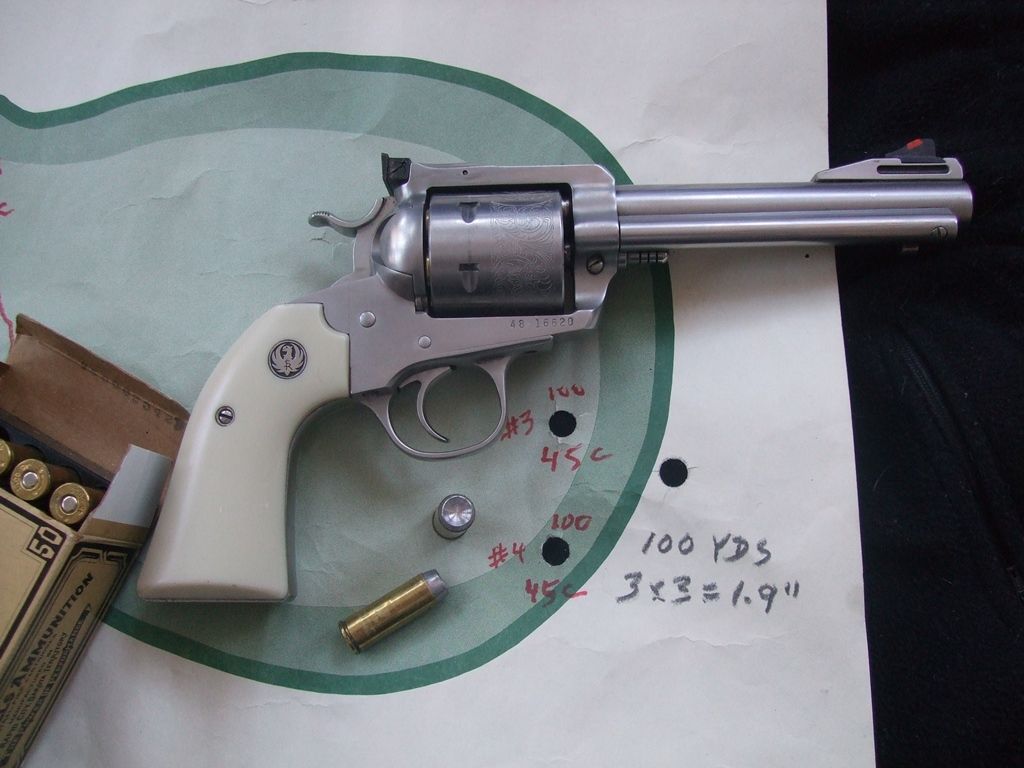 Thin line between love & hate. And, evidently, a thin line between accuracy and inaccuracy. LBT cast .452" 300 WFN GC volcano'd to 250 grains fairly sprays target with keyholes at 100 yards.
Preliminary results @ 100 yds, starting with 300 WFN GC
* 300 grain WFN (three different loads)----FA M83 4-3/4" .45 Colt w/Leupold 4x28mm----cannot keep 9x9 shots on 4'x5' cardboard.
* 276 grain Volcano (deep seat over 13.5/HS-6)----Ruger 03 Bisley Blackhawk 5-1/2" .45 Colt----3x3 shots=1.9".
* 250 grain Volcano (deep seat over 15.2/HS-6)----Ruger 03 .45 Colt----3x3 shots=20". Two keyhole; one incipient keyhole.
* 250 grain Volcano (deep seat over 15.8/HS-6)----Ruger 03 .45 Colt----3x3 shots=18". Two keyhole.
* 260 grain Volcano (deep seat over 15.2/HS-6)----Ruger 03 .45 Colt----2x3 shots=10.5" One keyhole; one shot misses 35" high x 23" wide cardboard.
Too much volcano----down to 250 or 260 grains----destabilizes, causing 50% or more of the bullets to keyhole. Limited supply of bullets forces concentration on 100 yard shooting, providing dope unavailable at 25 or 50 yards.
Not all stable bullets are accurate, but all unstable bullets are inaccurate. While accuracy of the 300 WFN GC was pitiful at 100 yards, it nevertheless hit point-on and cut round holes. The 250 Volcano is more accurate than its parent 300 WFN, yet keyholes 50+% of the time. Here a 250 Volcano begins to tip----an incipient keyhole.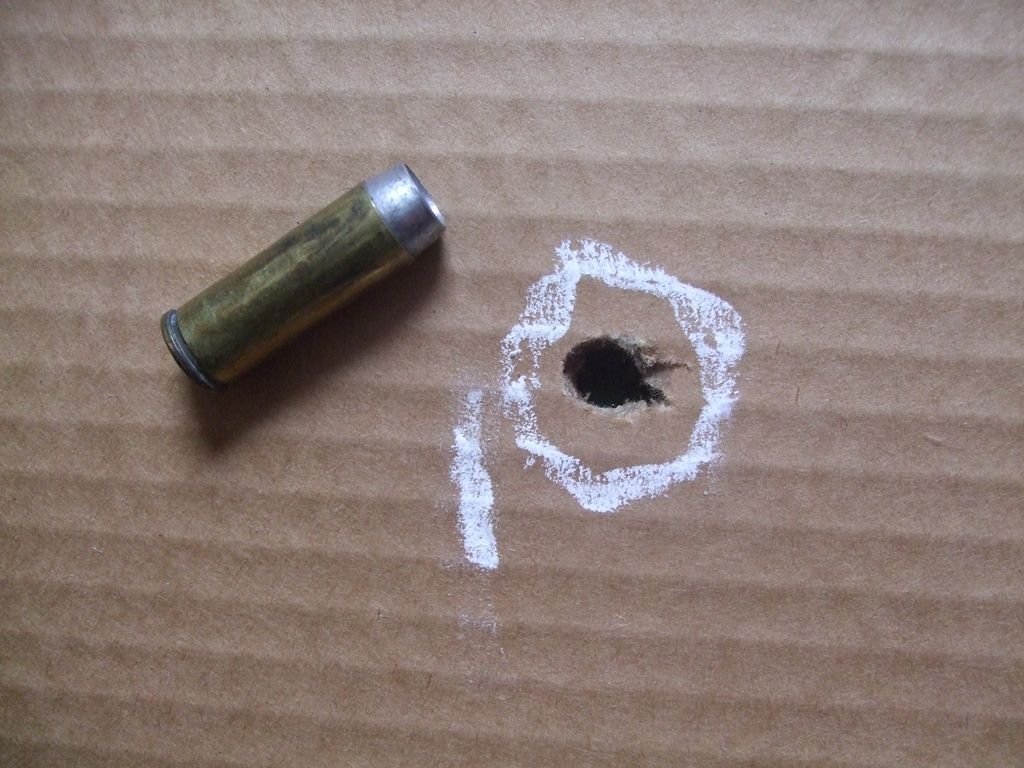 Conditions were hardly ideal for targeting at 100 yards. Fifteen degrees with a bit of wind. The revolver doesn't care. Ammo is more sensitive than the gun.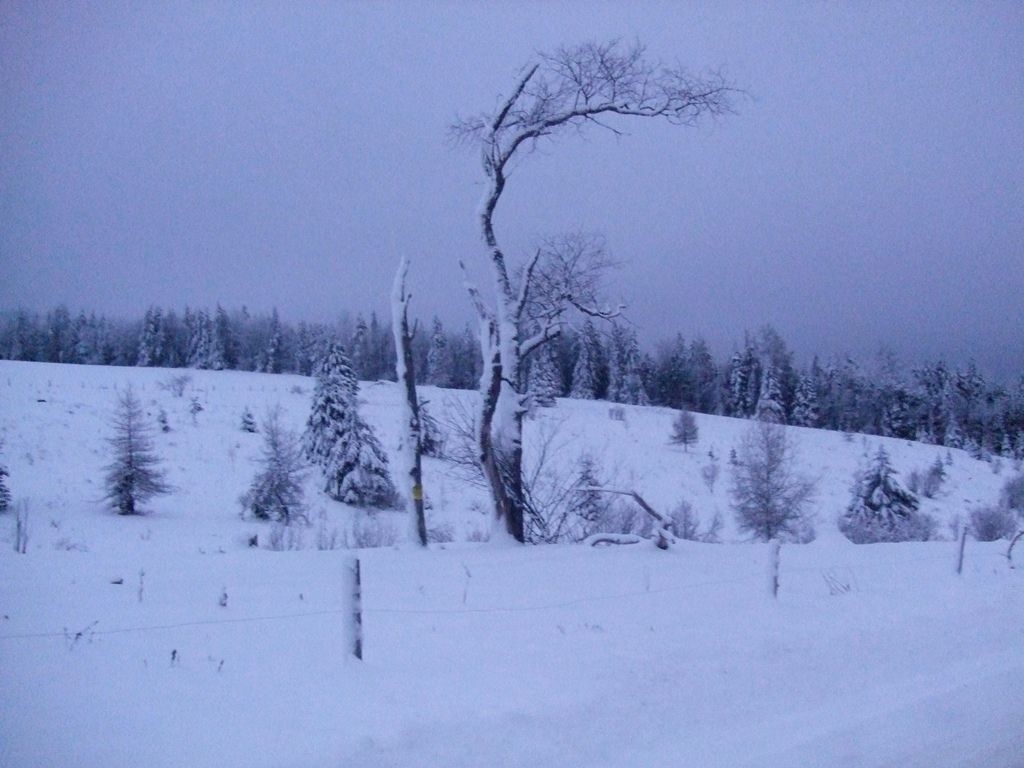 Had on hand a known deer load----Nosler .451" 250 JHP; 24.7/Win 296; CCI 350; Federal .45 Colt brass. COL=1.600". Velocity around 1150 fps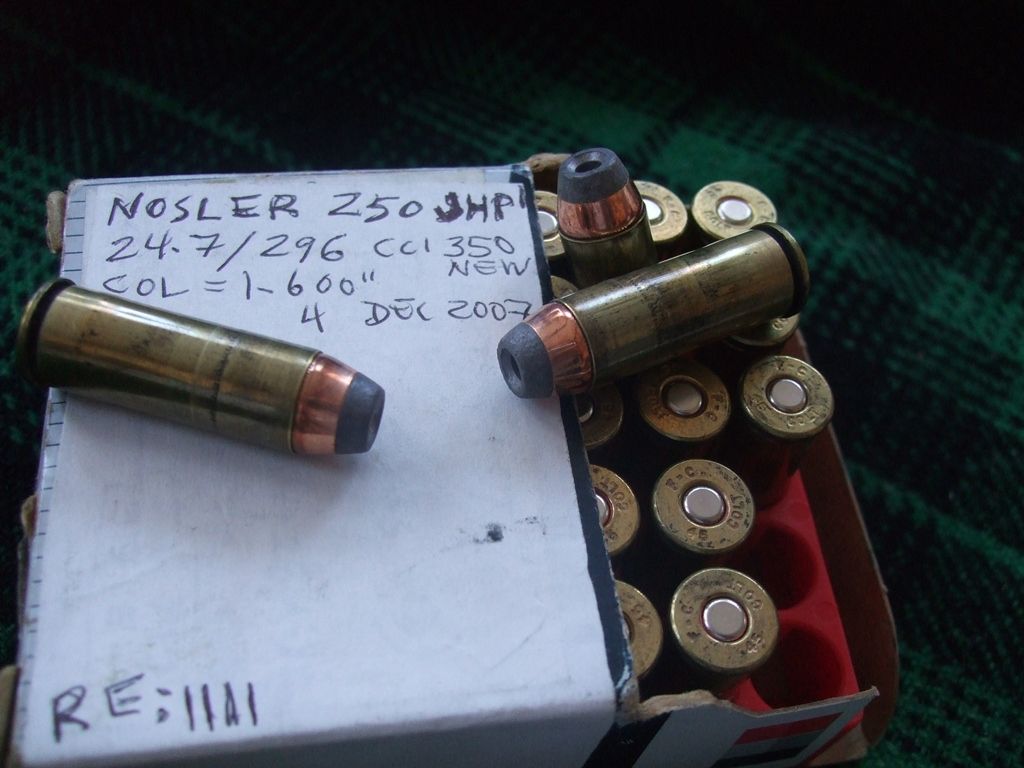 While Nosler .45 250 JHP may not have been copied from the excellent Hornady JHP, it looks and acts like a twin. Both feature pure lead cores, fine accuracy, with uniform expansion and punch in deer. Hornday replaced its JHP with the XTP before Nosler introduced its line of handgun bullets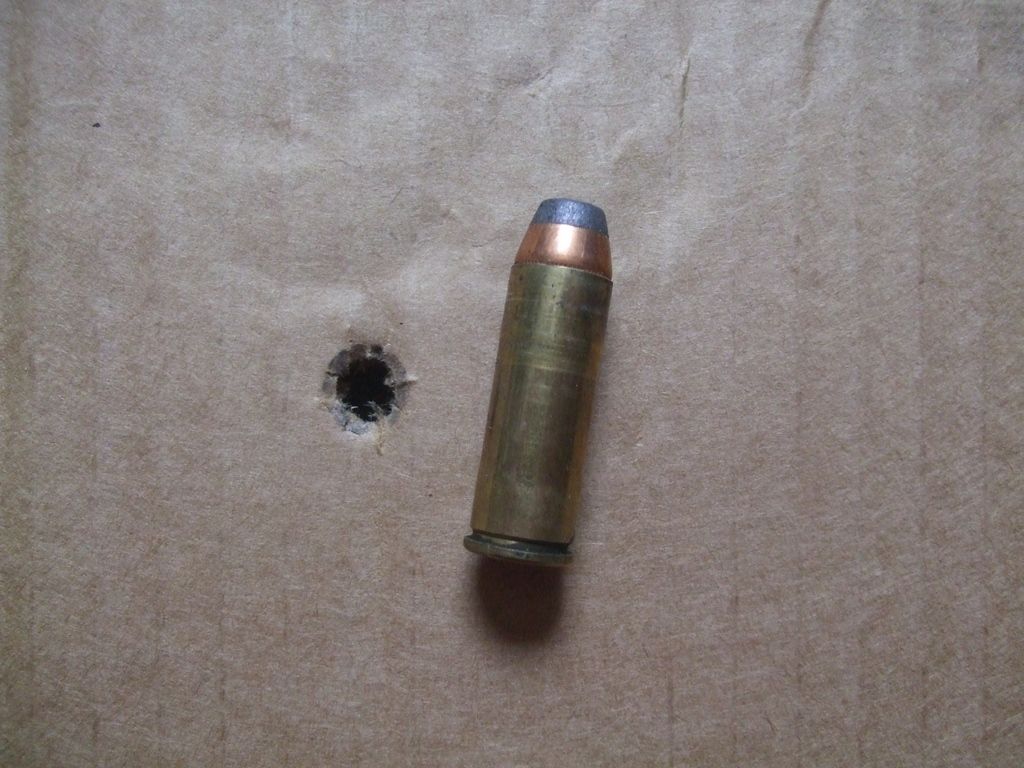 Daylight calling it curtains, cardboard faded from view, the Ruger 03 let off four rounds.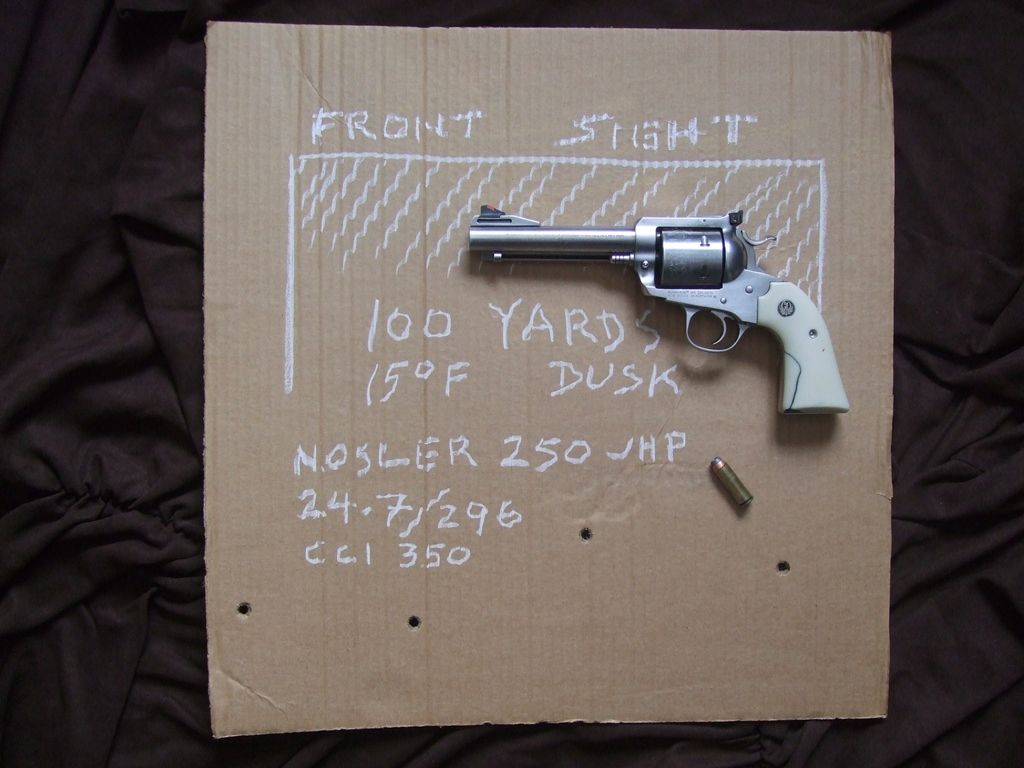 Bradshaw-Martin .452" 276 grain Volcano----along with other Volcanic hollow-pointing of LFN and WFN bullets----requires special seating stem. To seat Volcanics in straight line without damage or distortion in RCBS seater, a cast .357 158 SWC was placed nose-down in Volcano. Flat of SWC seater plug pushes base, while .357 SWC meplat self-centers in Volcano. A cast .357 round nose did not center as well,perhaps due to increased friction of nose in Volcano.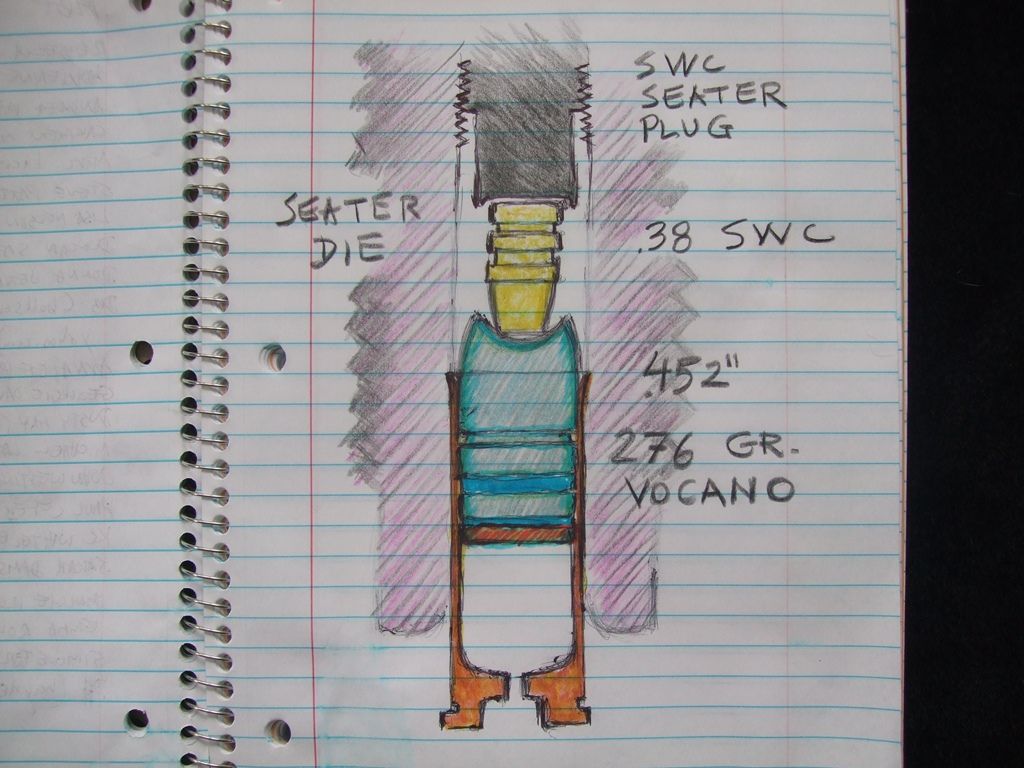 -Lee
www.singleactions.com
"Building carpal tunnel one round at a time"