Post by Lee Martin on Dec 7, 2014 19:45:51 GMT -5
Another very informative photo essay from David.....and one I've been fortunate enough to be a small part of.
____________________________________________________________________
100 yards offhand, FA M83 .45 Colt 4-3/4", Leupold 4x28mm LER. Last five shots of the day. Cast 335 LFN GC deep seated over 20/H110=1115 fps. First three shots with Freedom Arms laminated rosewood; last two shots with Pachmayr grip. Same point of aim (POA), with same point of impact (POI).
Cast .45 335 LFN GC seated deep over 20/H110 in M83.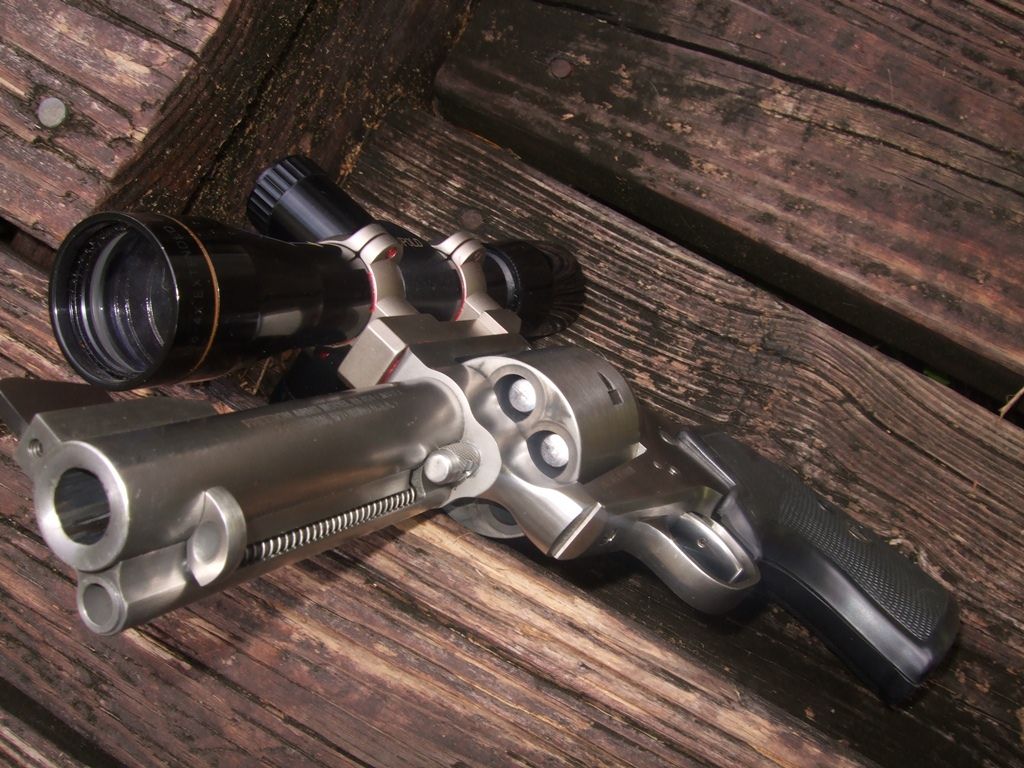 Deep seating increases neck tension to promote uniform ignition of otherwise light (19-20 grains) charge of 296/H110, fro 1,100 fps, with accuracy between 2 and 4-inches @ 100 yds. HS-6 does nearly as well @ 1,000-1,050 fps.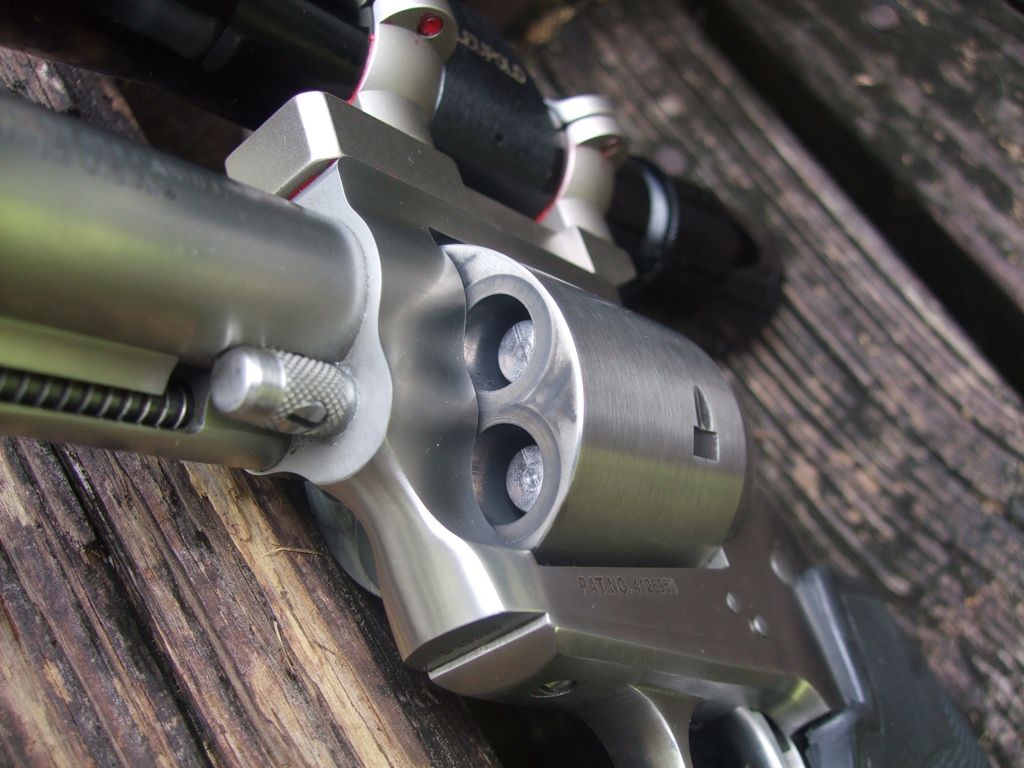 Cast .452" 335 LFN Gas Check with brass .510" 420 LFN. Brass bulletr fired into caliche pulverized limestone @ 1,200 fps from John Linebaugh built Ruger in .500 Linebaugh.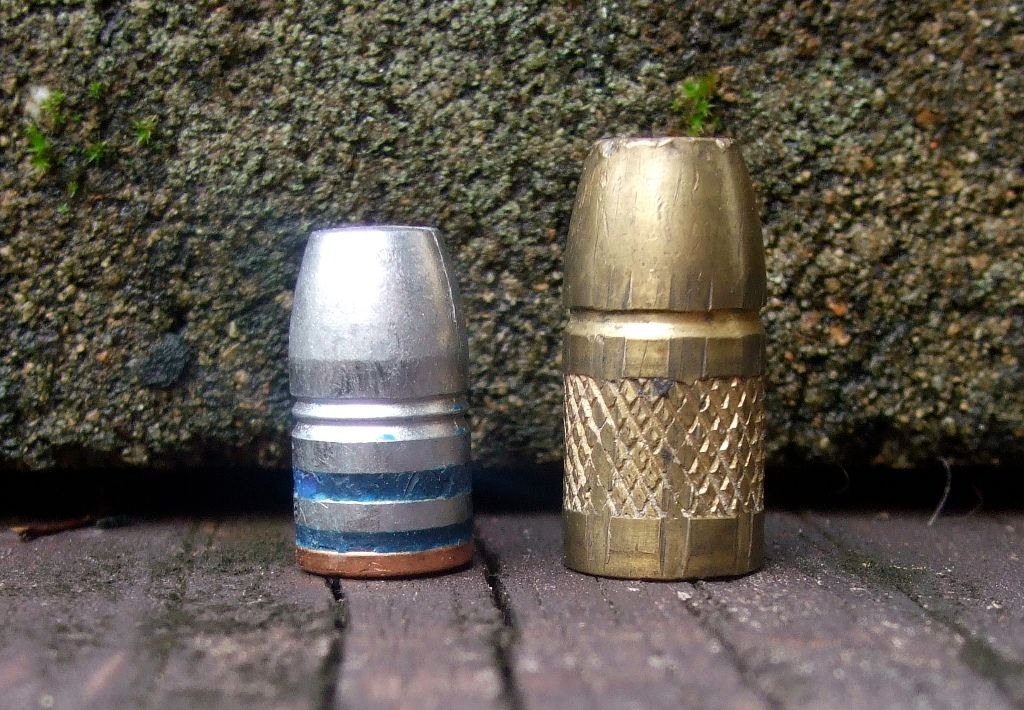 Cast .452" 300 WFN Plain Base. Lousy accuracy. Sent to Lee Martin (with drawing) for hollow pointing on lathe, experiment to move longitudinal balance rearward, hopefully improve accuracy.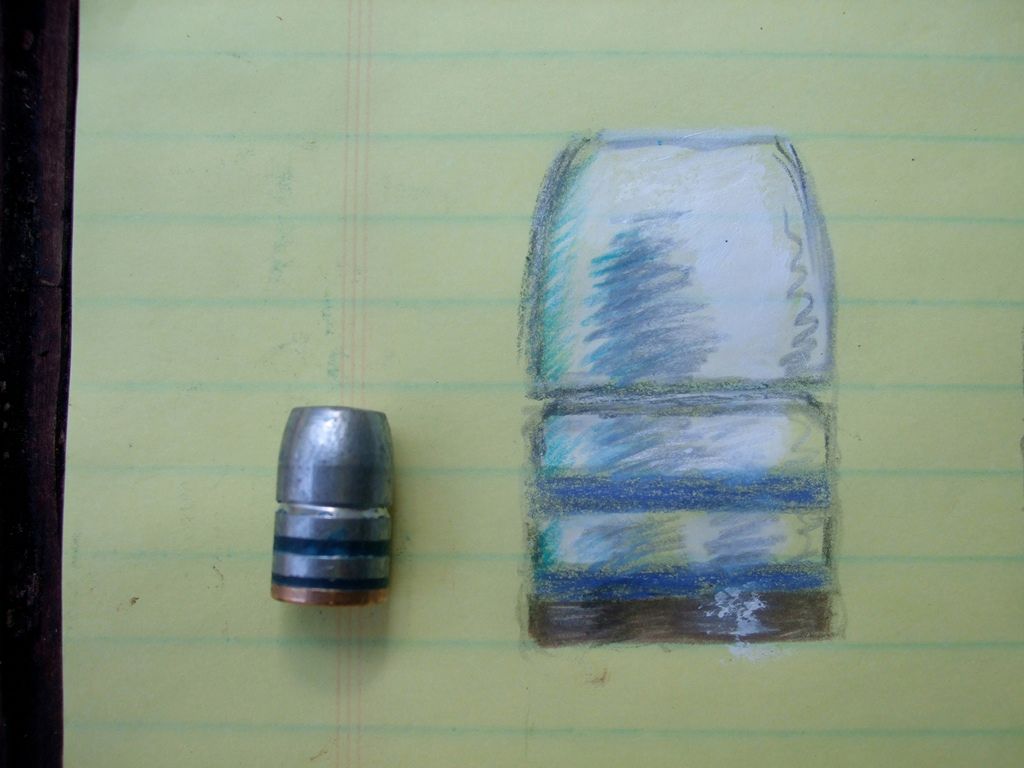 Cast .452": 300 WFN GC and 365 LFN PB. Drawing suggests hollow point possibilities. Lee found 300 WFN out of balance. David's best group with 300 WFN at 100 yds about 12", with 3 to 4-foot groups more likely from M83 .45 Colt 4-3/4" with Leupold scope.
Lee lathed hollow point reduces .45 WFN GC from 300 to 276 grains. Only things killed so far, gallon water jugs, little chips of hard lead breaking off. 276 WF HP deep seated over 13.5/HS-6 in Starline .45 Colt brass, WLP primer. COL=1.450-1.457".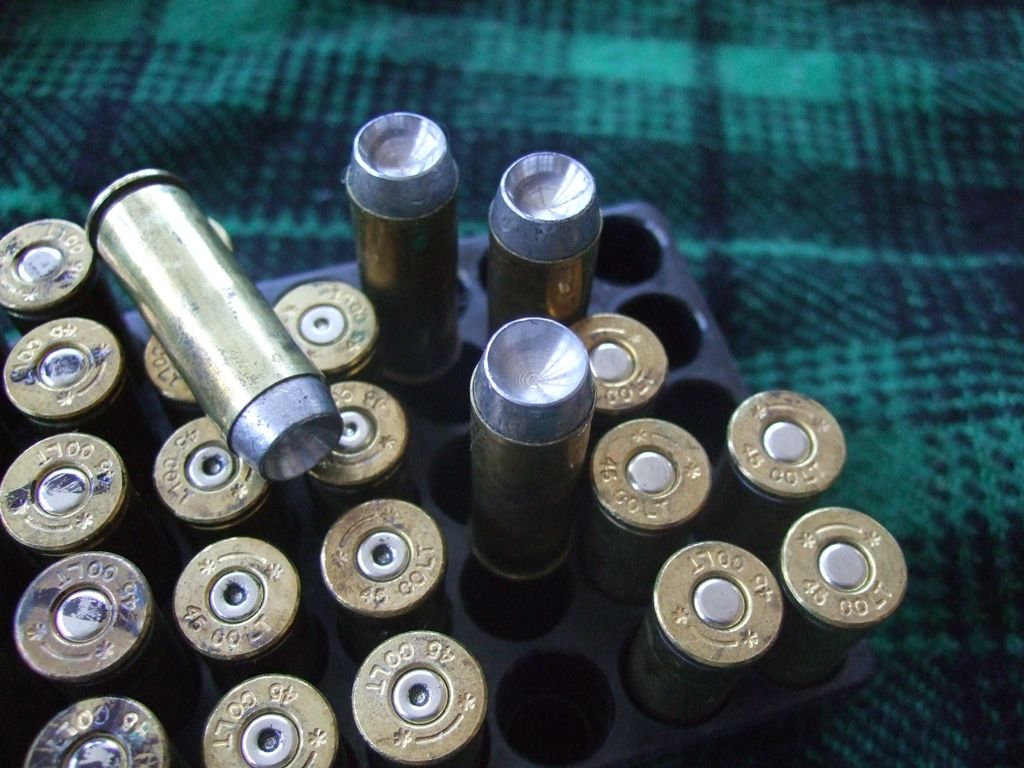 Ruger 03 .45 Colt with 300 WFN GC, now turned 276 grain Wide Hollow Point GC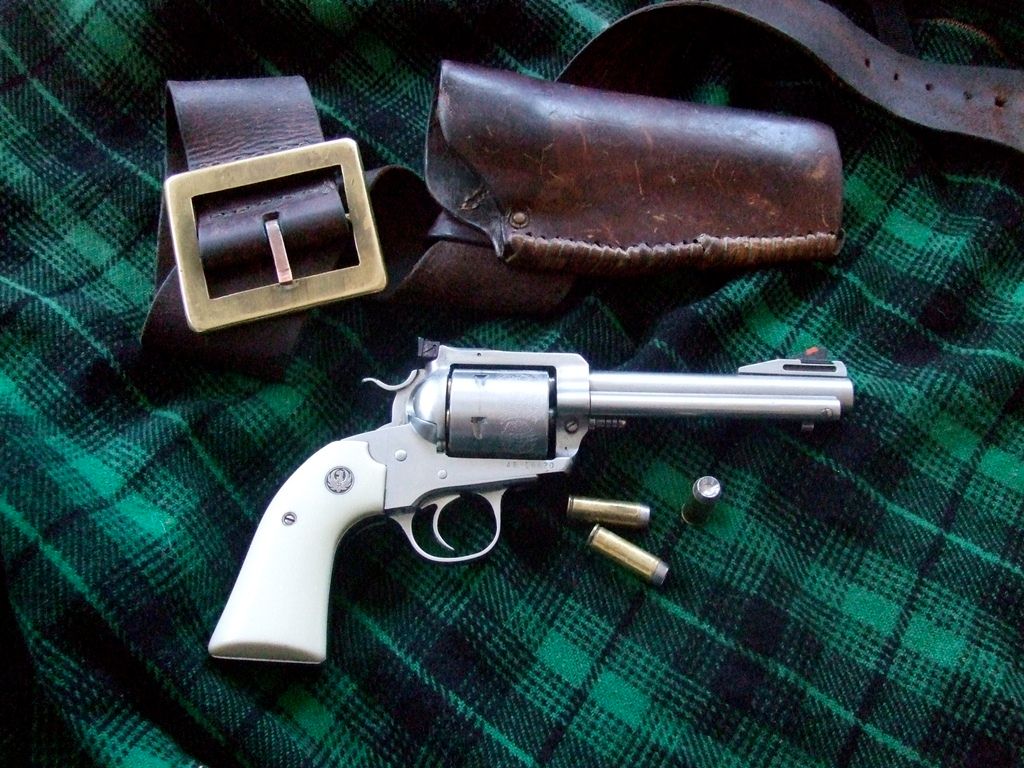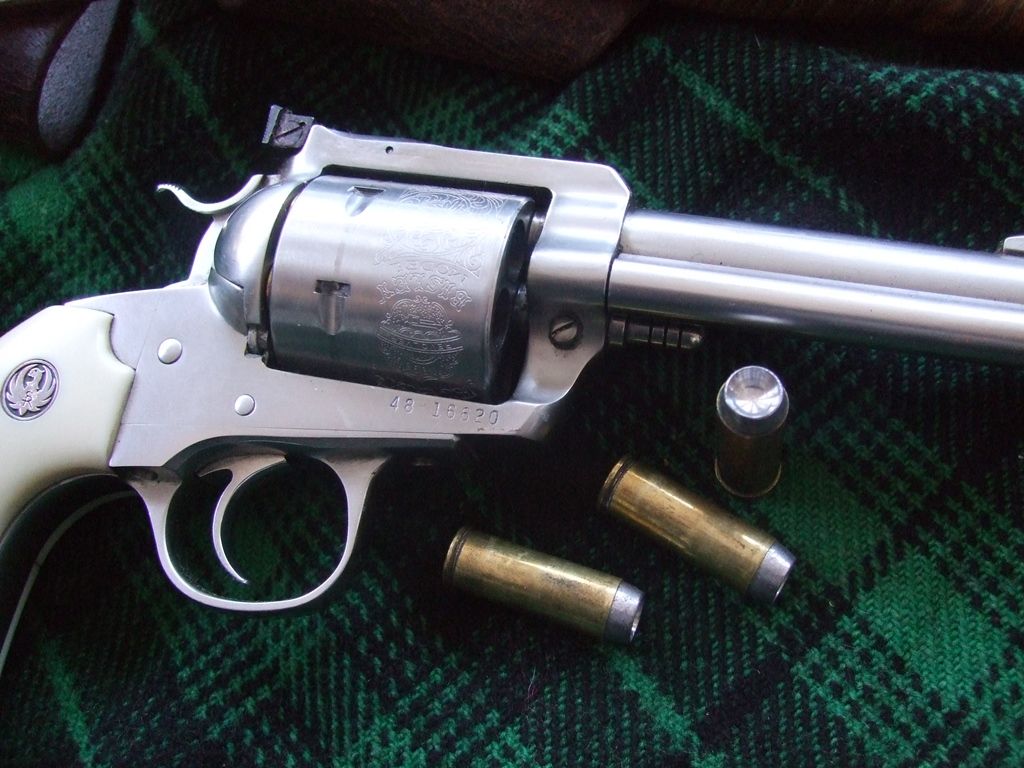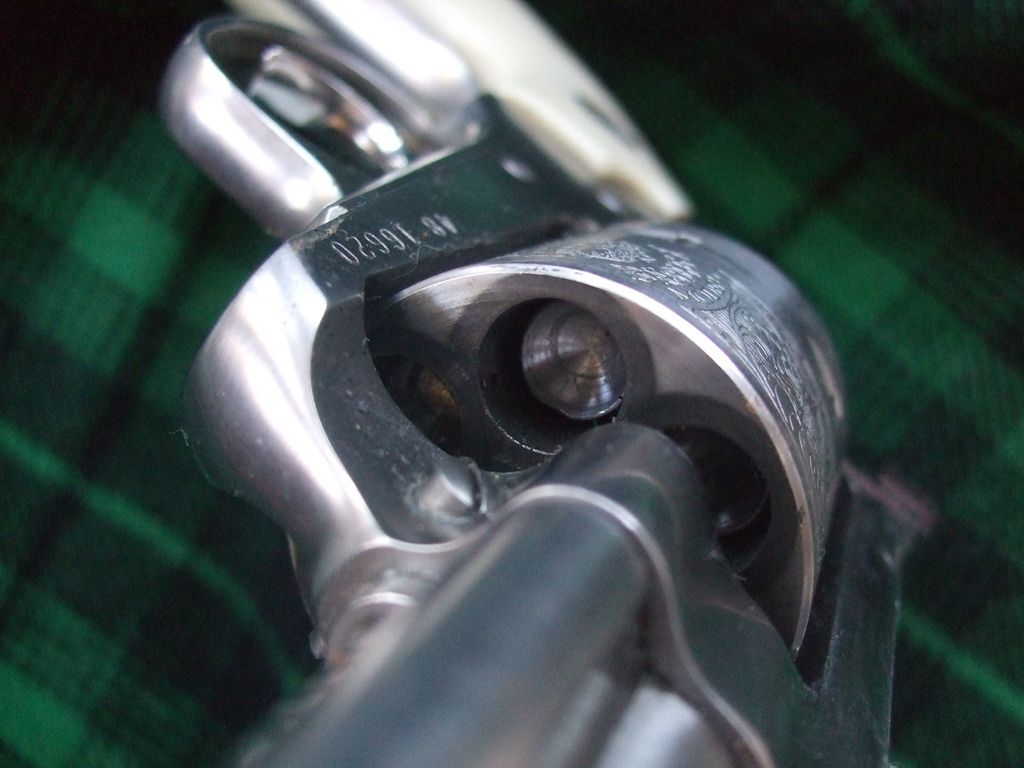 Cast .452" Volcanic 276 grain HP Gas Check (HP drilled into 300 WFN GC), Deep seated over 13.5/HS-6 in Starline .45 Colt brass with WLP. COL=1.450-1.457". First shot hit POA (Point of Aim) @ 25 yds. Second shot hit 2.2" above POA @ 75 yds. Fired with deerskin gloves, from rest. Temperature 15 degrees fahrenheit.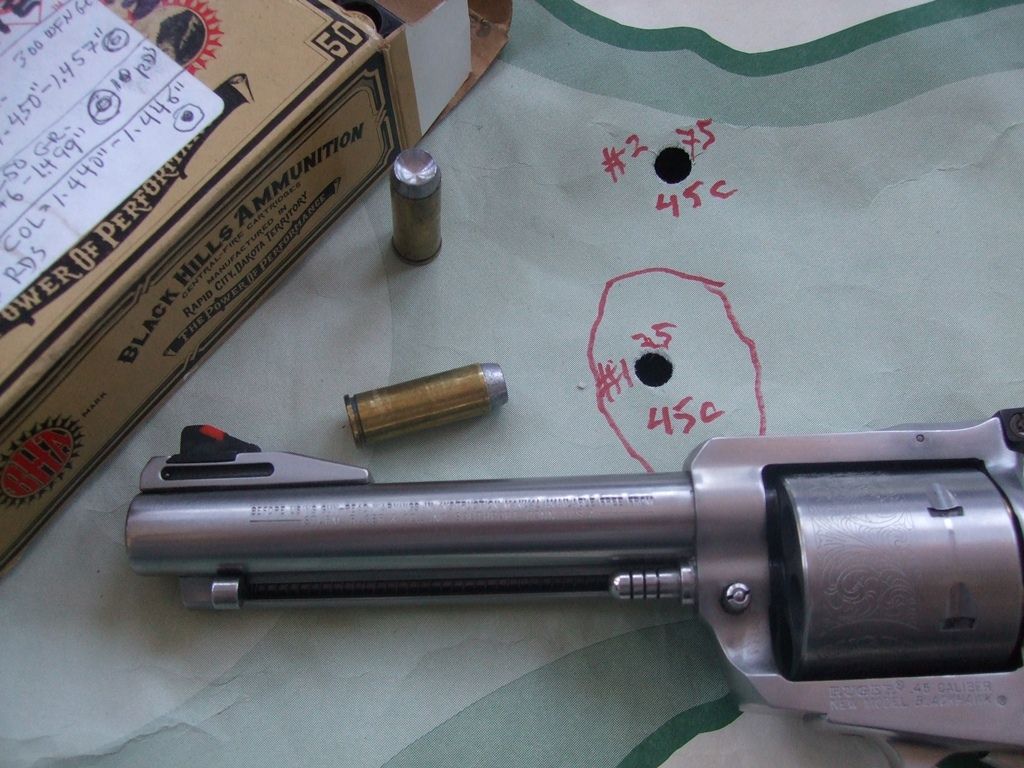 100 yards, Ruger 03 .45 Colt. 3x3 shors=1.9-inches. Cast Volcanic 276 grain HP GC, deep seated over 13.5/HS-6, for COL=1.450-1.457". Point of Impact 2" below Point of Aim @ 100 yds.
Rather astounding accuracy, considering bullet began as cast 300 WFN GC, which recored a very best group of 12-inches @ 100 yds, but which generally failed to keep all shots on 4'x5' cardboard at 100 yds. David sent batch of 300 WFN GC to Lee for volcanic hollow pointing, with expectation bullet could only be improved by removing weight from nose----without shortening length.
Another surprise: very modest trajectory at 100 yds. With mercury at 15 degrees, and having spent previous hour sorting out muzzle loading rifles, fingers were numb. Nevertheless, a frozen finger must squeeze----not jerk----trigger.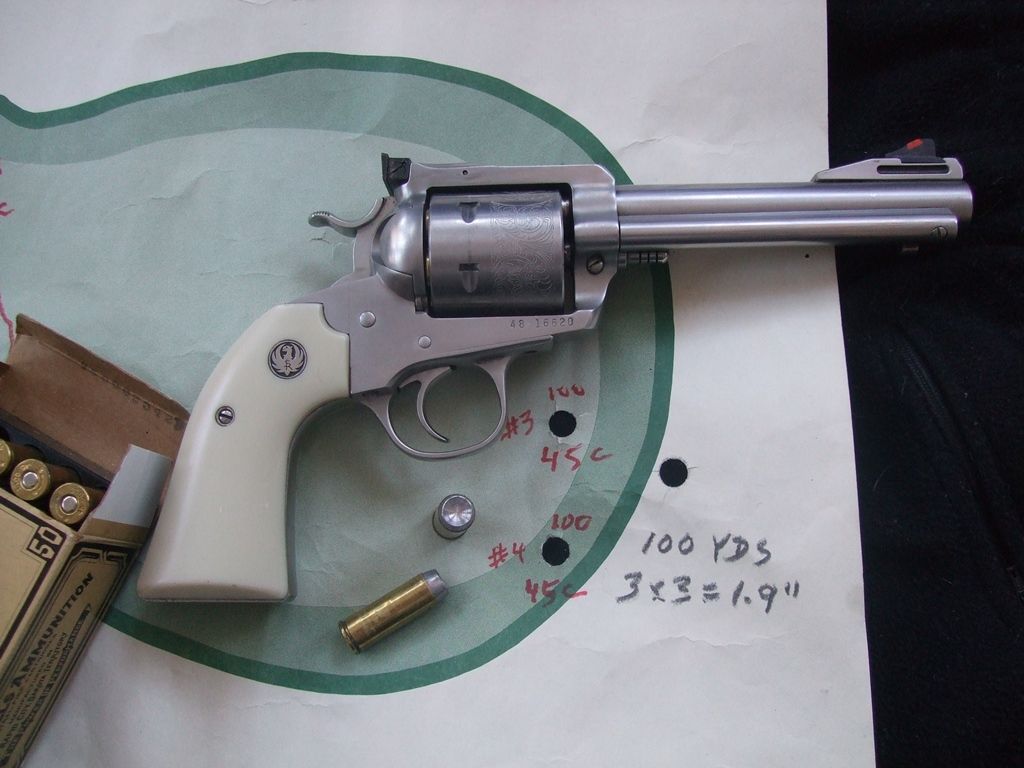 -Lee
www.singleactions.com
"Building carpal tunnel one round at a time"